Pamic Filters
Uniform pleated tube spacing for maximum media exposure and dirt holding capacity.
Each tube contains in excess of two square feet of effective filter media.
Extended service life.
Increased horsepower and reduced fuel consumption.
-40F to +140F Operating Temperature Variations.
Improved engine fuel economy
Filtration Systems second stage Pamic filters provide unmatched engine protection for a wide range of equipment, operating both on and off the highway. Our family of Pamic filtration products offer (3) vital savings: your equipment lasts longer and performs better; your servicing costs go down; and production schedules are maintained. FSI's Features include: Greatest Engine Protection, Extended Service Life, Increased Horsepower, Reduced Fuel Consumption and Easy Install.
Key Documents & Design Files
Description
The Pamic Style Filter has an overall efficiency of 99.9% on Standardized Coarse Test Dust and offers unusually low resistance and increased service life. Self-cleaning is achieved by drawing air through this dust bin to carry the collected dirt particles back to the atmosphere.
A typical pamic style panel can be made up of various numbers from 2 to 64 individual cyclone tubes. The paper tubes are set in a catalytic thermosetting elastomer which seals the filter in place in the air cleaner housing without additional gaskets.
Medium Service Applications
Medium Service includes most on- and off-highway uses such as gravel and ready-mix trucks, outdoor generator sets, garbage trucks, fire trucks, air compressors and pumps.
Heavy Service Applications
Heavy Service includes off-highway trucks, motor graders, crawler tractors, scrapers, cranes and shovels. Extra-heavy service includes such equipment as large scrapers, rock drills, rough terrain cranes, shovels, rock drilling, quarrying compressors and full-tracked low speed tractors.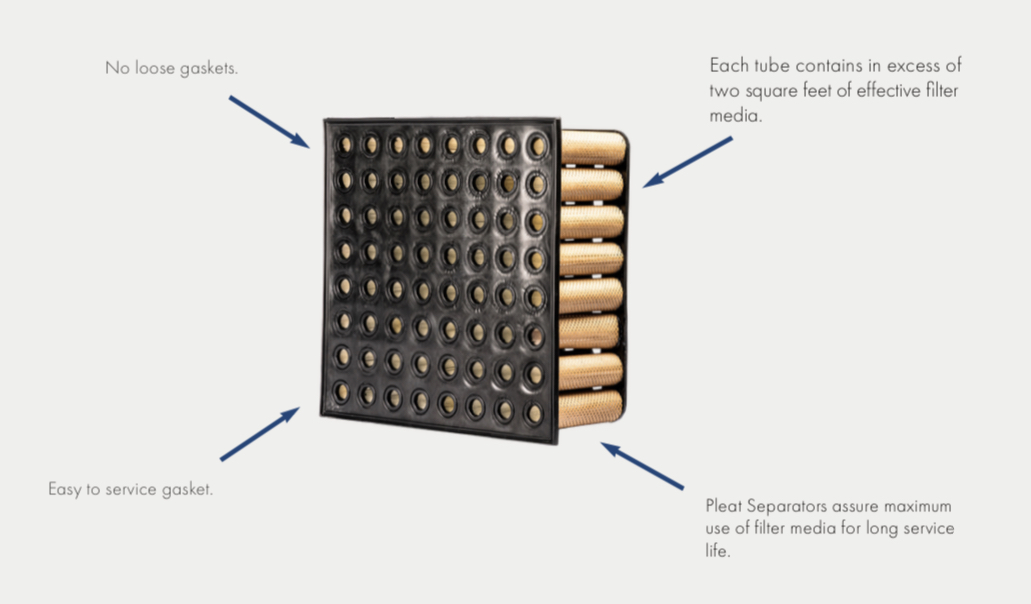 Part Number Look Up
Pamic Cabin Filters Part Number and Benefits
| | |
| --- | --- |
| PART NUMBER | SIZE |
| AP-060608-CYL-P4 | 2x2 |
| AP-060808-CYL-P6 | 2x3 |
| AP-061508-CYL-P12 | 2x6 |
| AP-062008-CYL-P16 | 2x8 |
| AP-080808-CYL-P9 | 3x3 |
| AP-081008-CYL-P12 | 3x4 |
| AP-082008-CYL-P24 | 3x8 |
| AP-101008-CYL-P16 | 4x4 |
| AP-101308-CYL-P20 | 4x5 |
| AP-101508-CYL-P24 | 4x6 |
| AP-102008-CYL-P32 | 4x8 |
| AP-132008-CYL-P40 | 5x8 |
| AP-152008-CYL-P48 | 6x8 |
| AP-202008-CYL-P64 | 8x8 |
General & Pneumatic Specifications